Namoo Korean Dessert Cafe & Bistro On the Park, Publika, Solaris Dutamas
Posted on November 30, 2014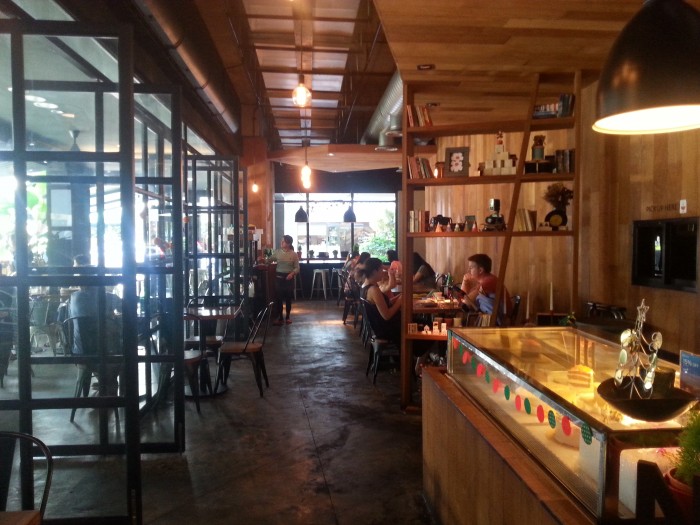 Since my return in Malaysia, I haven't been exploring some good Korean restaurants that much. I have been craving for Korean food for months. Yes, literally for months. From that moment on, I told myself that I have to arrange my own time to explore these restaurants in Malaysia. Compare to London, Malaysia does not have much Korean street food stalls. There are plenty of Korean restaurants in Malaysia. If you want to enjoy some good Korean food in Malaysia, I suggest that you should try at Ampang, Mont Kiara, and Solaris Dutamas where there are plenty of good Korean restaurants to try. So far, I have reviewed Da Sae Gwan, Mamas (마마수), and Tous les Jours.
Yesterday, I manage to make my own time available to head down to Namoo Korean Dessert Cafe & Bistro On the Park at Publika, Solaris Dutamas. This place is known for their Korean-Western fusion food and desserts. As you walk into the entrance, you are welcomed with beautifully designed interior decorations, K-indie music, and friendly staff who says 'Welcome to Namoo'. You can have your meal outside and enjoy the sunny weather. Also, there is a park outside so you can let your kids play there while you enjoy your meal.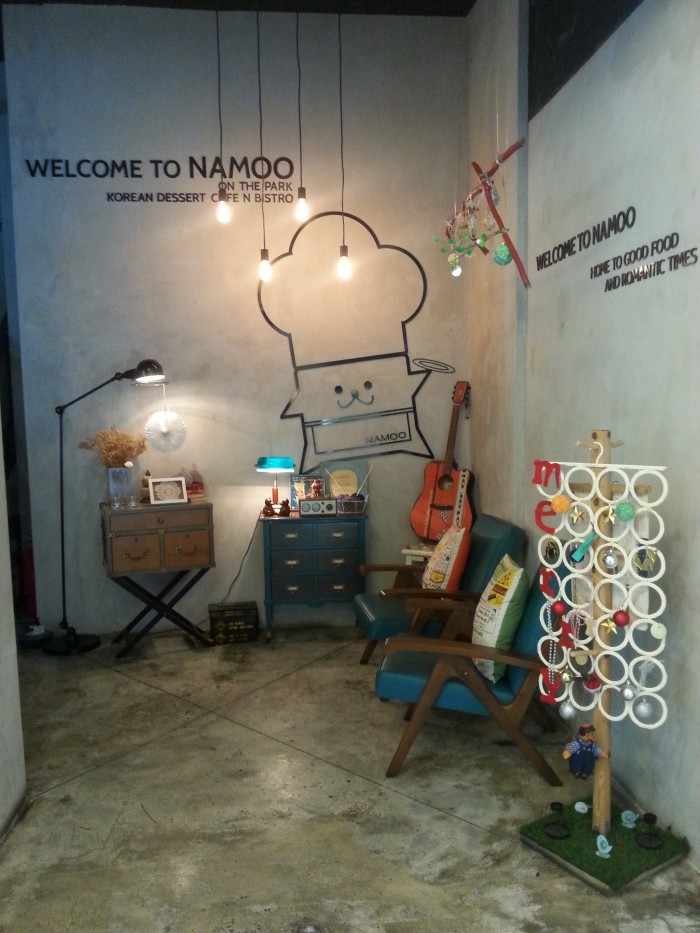 I sat down in a nice comfy chair and was ready to order. There were plenty of choices to choose from. There is the Korean-Western fusion dishes and traditional Korean dishes (like bibimbap, kimchee jigae, and others) to choose from. Also, not to forget, the dessert. I made my decision, ordered, and waited while reading Kyung-Sook Shin's novel 'I'll Be Right There' and listening to Korean indie music. Within ten minutes, the food has arrived.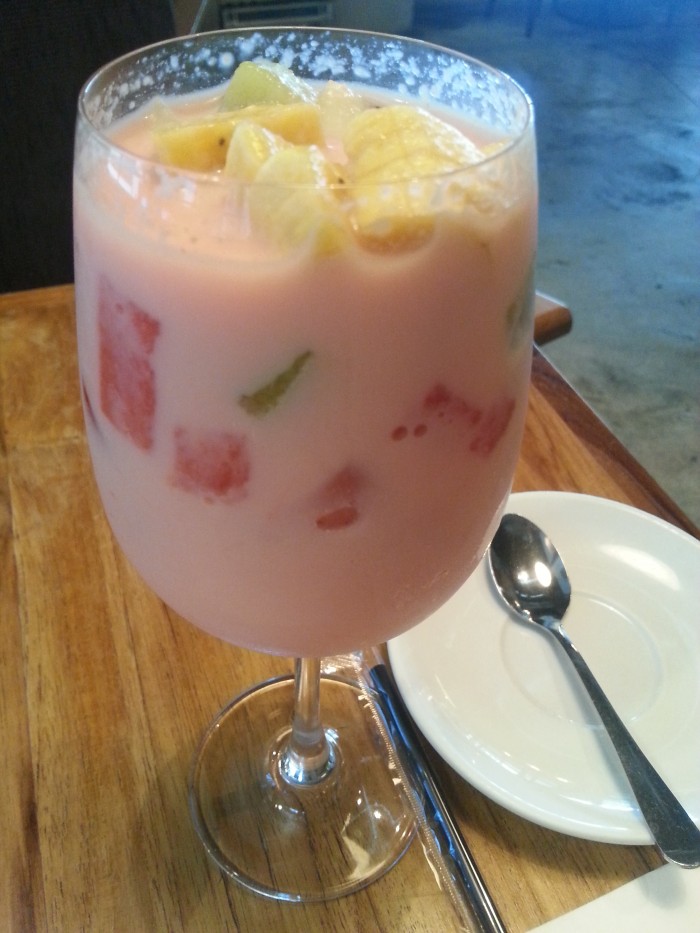 Milky Hwa Chae
I had Milky Hwa Chae as my drink. It's not too sweet but it's cooling with a hint of milk. It has the balance of fruitiness and milkiness. The small pieces of fruit are light and fresh. A perfect drink to cool you off on a hot day.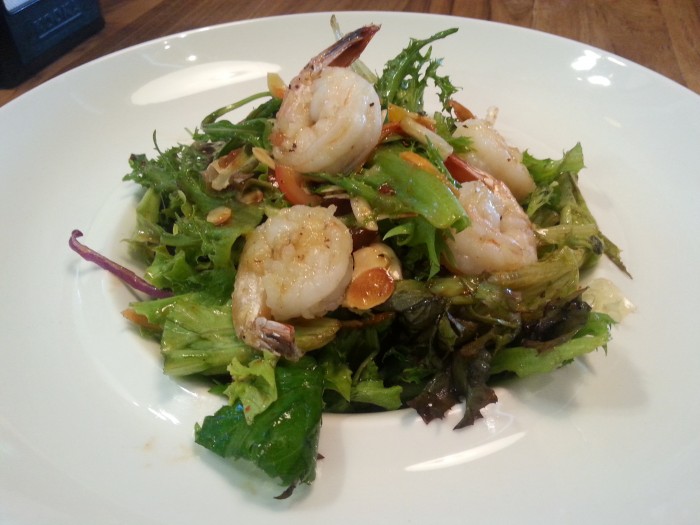 Grilled Prawn Salad with Korean Jujube
My appetizer is the Grilled Prawn Salad with Korean Jujube. It has the bitterness salad leaves, warm grilled prawns, sweet and herby jujube, crunchy nuts, and sweet slices of oranges that is healthy. The sauce has a hint of spice and sweetness to it. The salad is not too soggy. It has a bit of crunchiness with balance flavours.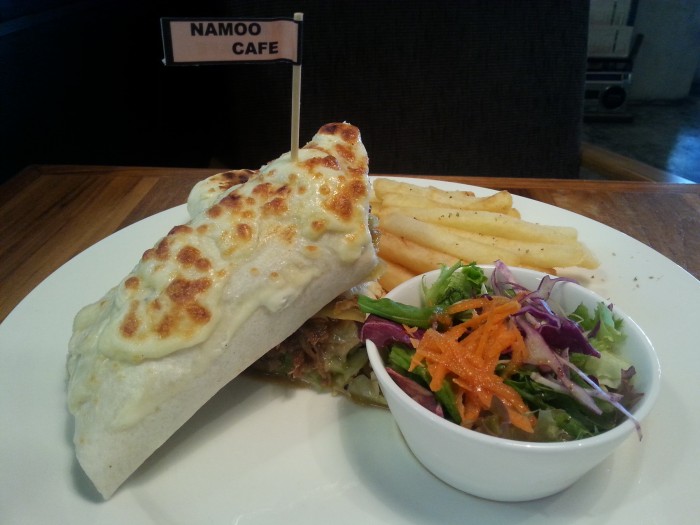 Korean Bulgogi Wrap with Fries and Salad
For the main dish. I would consider this as a wrap. Not a taco which is stated in the menu. The one I had is the Korean-Western fusion Korean Bulgogi Wrap (not taco) with fries and salad.  It has plenty of ingredients inside the wrap. It is a step-by-step flavours. First, the beef with bulgogi marinade sauce is light and sweet. Then, the fresh and crunchy vegetables comes in followed by the melted cheese on wrap that rounds up the flavour nicely. I thought the cheese was heavy but that proof me wrong. The whole dish is not that heavy. To me, it is the perfect comfort food with balance of meat, vegetables, and bread with fries and salad.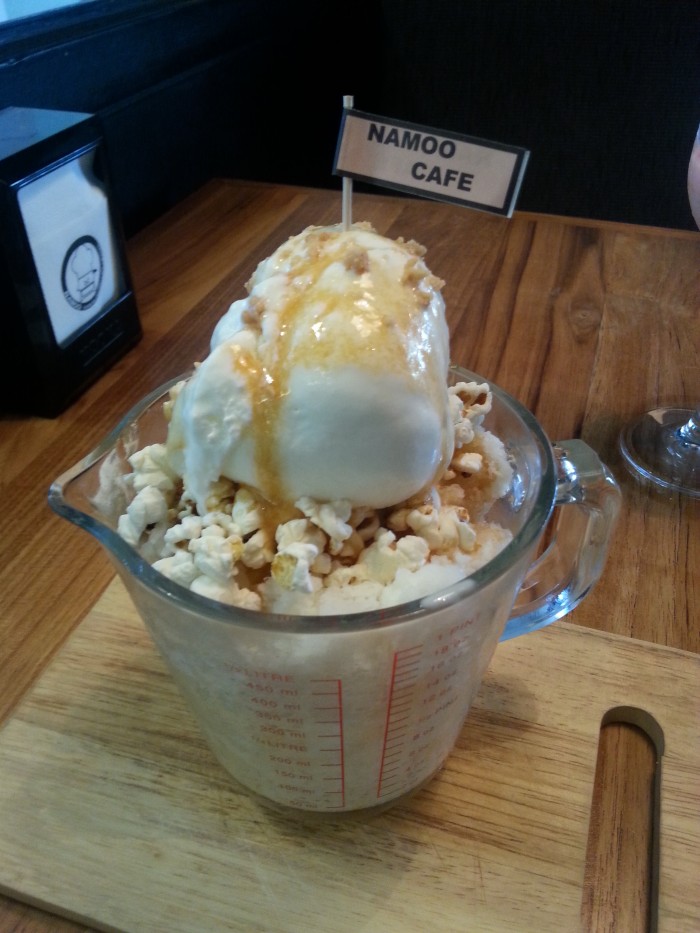 Salted Caramel and Popcorn Bingsu
Finally, I save my room in the tummy for the Namoo's recommended dessert: Salted Caramel and Popcorn Bingsu. This is the first time I had Bingsu. I would say that this is a delightful dessert that makes you smile for the rest of the day with plenty of sugar rush. The salted caramel sauce hits the tip of your tongue but the mildly sweet vanilla ice cream and crunchy popcorn comes in to the rescue. A few small pieces of rice cake has a deep flavour which I would recommend to eat together with ice cream. The shaving ice melts in your mouth heavenly. Definitely the perfect dessert on a hot and sunny day.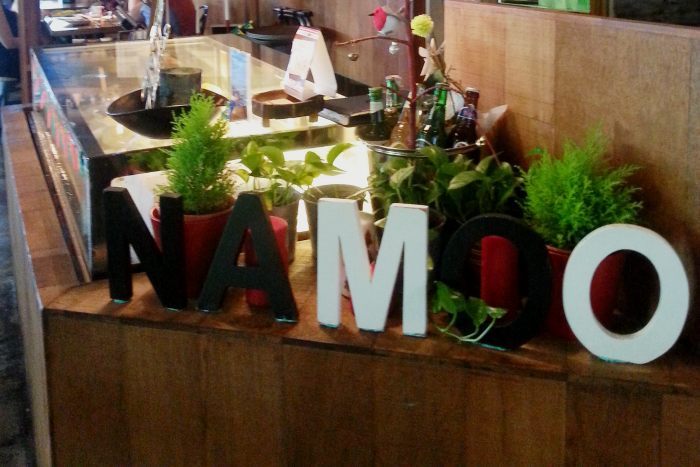 The food is delicious. There is plenty of food and drinks to choose from. The staffs are warm and friendly (Thank you for helping me charge my phone when the battery was really low). The atmosphere is lively and comfortable. I enjoyed listening to the music while enjoying my drink and reading a book. Although the price for the meal was a little bit expensive (around RM30 – 80), I wouldn't mid going there again once in a while. I would go there just for desserts. While I'm in Malaysia for now, I'll be reviewing and recommending some good Korean restaurants. Hopefully I get to see what kind of good, modern, and authentic Korean food has to offer in Malaysia.
Tags : Food,Namoo Korean Dessert Cafe & Bistro On the Park