National Orchestra of Korea
Posted on August 25, 2013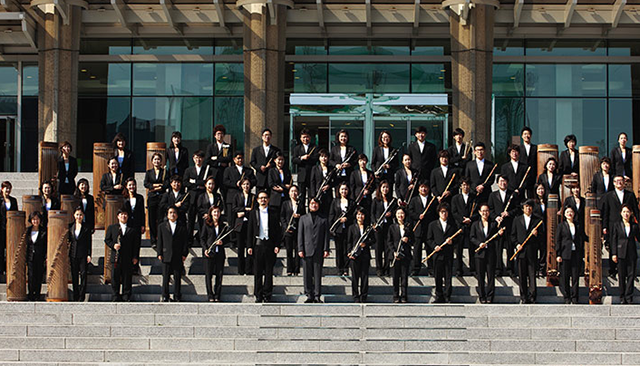 The National Orchestra of Korea, which consists of over 50 members and led by principal conductor and artistic director Won Il, came all the way from South Korea to perform at the opening performance for K-music festival. This group is not your typical classical Western instruments. It consists for Korean traditional instruments. It was founded in 1995 and continues to showcase the essence of Korean culture through traditional instruments and contemporary innovation. The performance was held at the Barbican on the 14th June 2013 as the opening performance for K-Music Festival 2013.
Won Il has studied Korean traditional music and played with the Uhuhboo Project previously. He used to lead the Puri (percussion group), Ensemble (consists of performance and compositional style of Puri), and Baramgot (perform contemporary shamanistic music).  With his experiences, in March last year, he became the youngest Artistic Director of the National Orchestra of Korea. He aims to showcase innovative Korean orchestral with tradition and contemporary elements which global audiences would enjoy.
The following songs were performed that made the audiences feel emotionally attached to the music
Daechwita Inverse (11')
Arirang Fantasy (9')
Gongmudohaga (17')
Ssitgim-gut Sinawi (20')
Nirvana (16')
New Boating (10')
The National Orchestra of Korea gave the audiences a wonderful journey of Korea traditional and contemporary orchestra music from start to finish of the opening performance.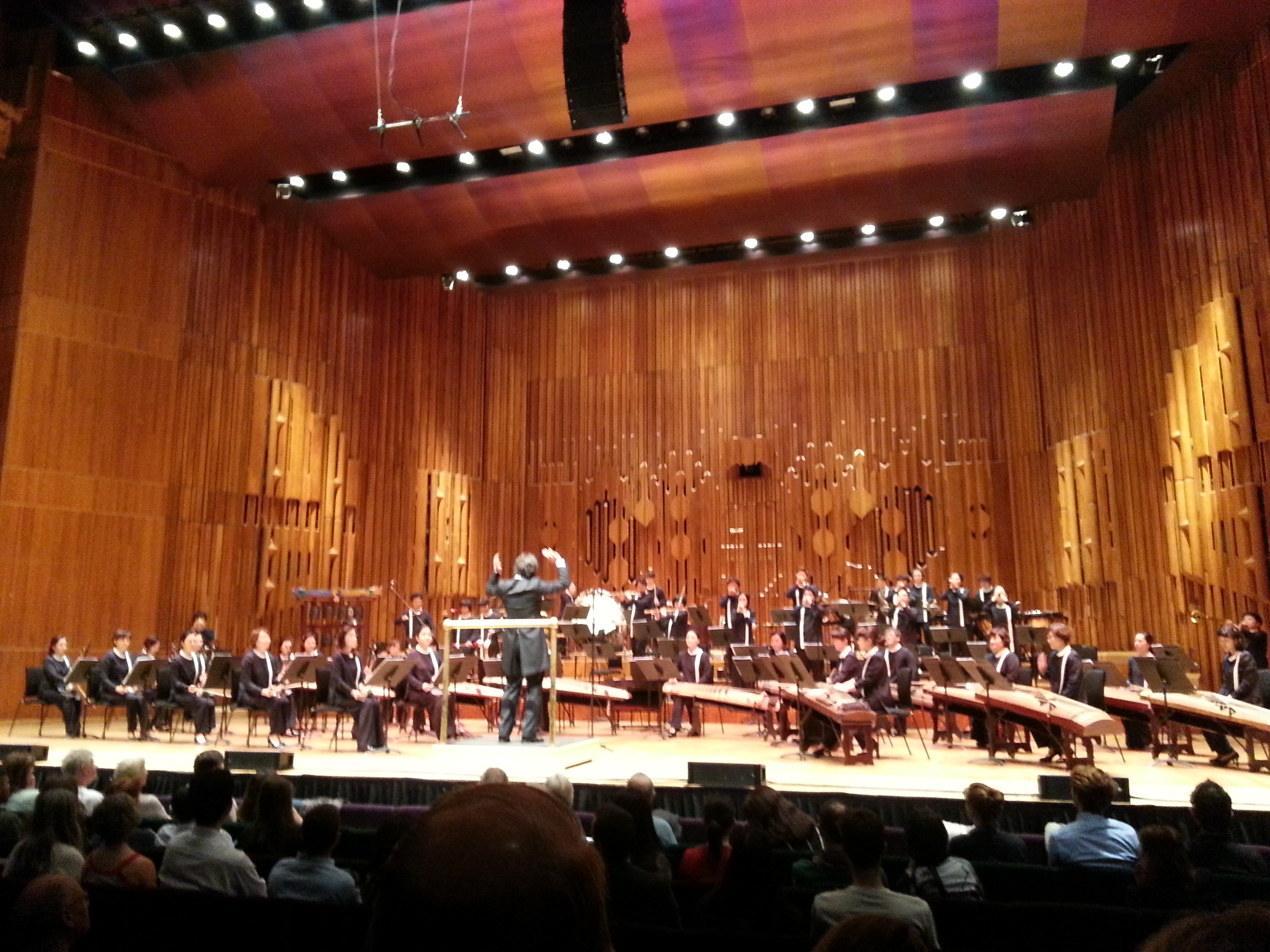 Daechwita Inverse, which was re-composed by Won Il, brought the audiences through the story of the King or an army marching through an intense battle. While I was listening to this music, I could feel the goosebumps on my skin. Each individual instrument group present their own sounds follow by a combination of all groups. It's truly a sound of the battle cries with courage and dignity.
Arirang is one of the most popular folk tunes of the Korean people. Arirang Fantasy made me cried in tears. The song pierced through my heart and let my emotions flow like a river while listening to it.
Gongmudohaga is a folk poem that I would listen to with instrumental music. The instruments and sounds are telling the poem with expressions and emotions about how the woman has to go through love, parting, and death. A story with no words but music tells it all.
After the interval of 20 minutes, we were delighted to see and listen to Ssitgim-gut Sinawi, a shamanistic rite on cleansing the spirit of the dead person. It was interesting to see how these were done when loved ones passed away. Besides the instruments, the performers sang along while performing the ritual.
Then, we listened to the elements of Buddhist and folk music, Nirvana. Again, the song expresses how a person aims to seek calm and be released from the clutches of conflicts and anxieties from the society.
Finally, one of my favourite performances is New Boating, which is composed by Won Il himself. Percussion instruments were mostly used to add some beat and rhythm to the song. Part of the London Bridge Is Falling Down was played within that piece. I was filled with laughter and was tapping along with its rhythm. This song definitely takes me on the joyous boating ride.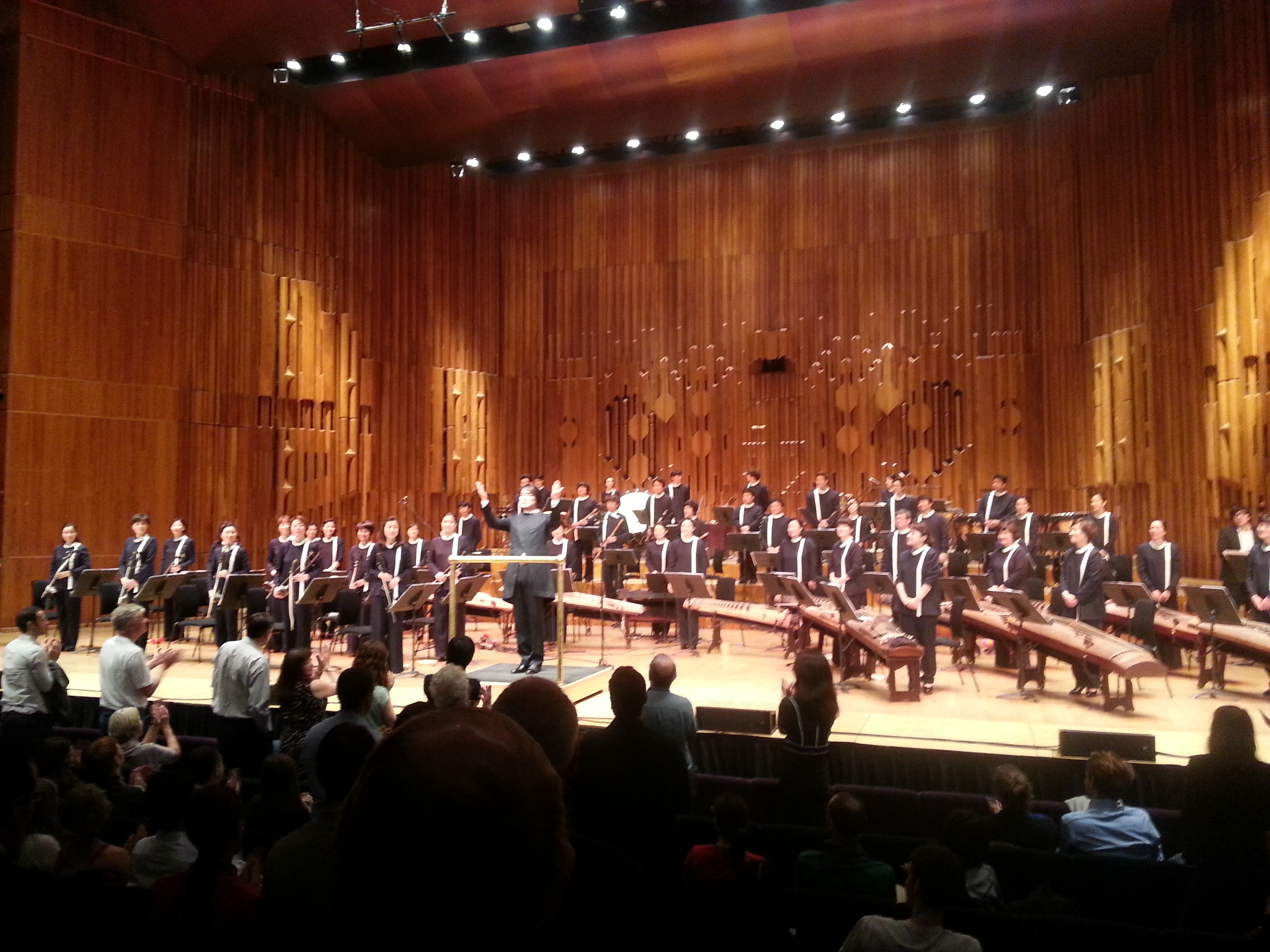 Overall, I would say that every single song tells a story and give the audiences in a wonderful adventure of Korean traditional music and culture. We were transcend from past till the present. The National Orchestra of Korea truly brings in contemporary style of Korean traditional music. I would love to see them perform once again in the UK. It's a 'must-see and must-listen' performance with unique style and local essence of Korean traditional music. Wherever there are in the world, like Korea or even in your country, you should see their performances.
Tags : K-Music Festival,music,Orchestra,Won Il