PATiENTS Returns for 2nd UK Tour
Posted on May 17, 2015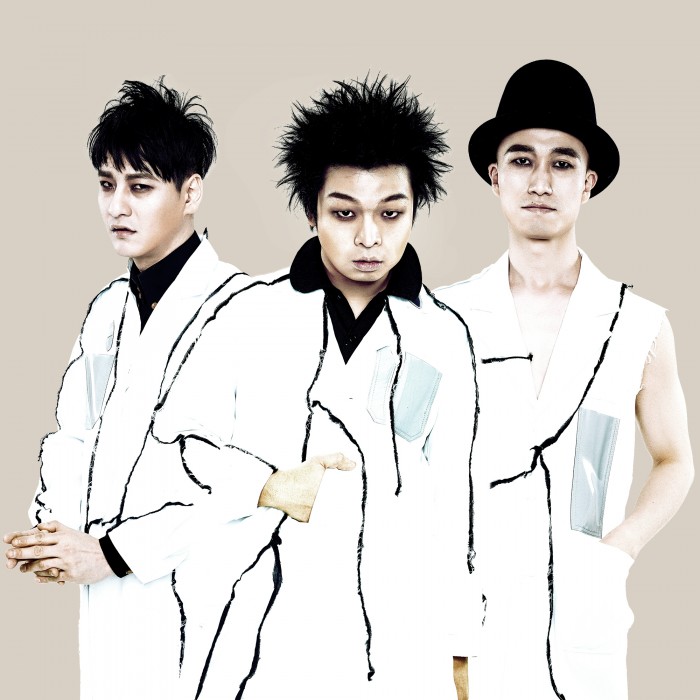 PATiENTS:Hyuckjang Kwon (Keyboard and Chorus), Sumin Jo (Bass and Vocal), and Jaehyuk Lee (Drums and Chorus) (Courtesy of the artist)
PATiENTS continues producing more experimental with their arrangement in music. With their latest release of their full album, "18". You will not be disappointed as they continue to show what is hybrid punk with another level of uniqueness and catchy tunes. The album consists of previous songs of "Let's Drive, Let's Go" and the latest song, "Bad Fingers". After their release of the full album, they return to the UK for their 2nd tour together with Dead Buttons and other K-indie bands in London and Liverpool Sound City Festival (19 – 24 May).
Before they start off their 2nd UK tour, Sumin Jo (vocalist and bassist of PATiENTS) talked about their full album, music videos and tours.
You recently released a full album with 10 tracks, "18". How is it different from your previous EP, "Let's Drive, Let's Go"? What is the meaning of the title "18"?
Sumin Jo: Our 2014 EP, "Let's Drive, Let's Go," was a tour-only EP for our UK and Taiwan tours. It contained four songs and only 500 CDs were made. The CDs were all sold at the venues in the UK and Taiwan we played at.
The four songs from "Let's Drive, Let's Go" are included on "18," but they have been re-recorded and more work has been done on them. As a result, with the newer versions there are some differences with the speed, texture, etc. We hope people enjoy the re-worked songs and the other new material on "18"!
As for the album's title, we chose "18" because it has an ambiguous meaning. In Korean, "18" sounds like "십팔(sipal)" and it means "f#ck." Just like how people use the F-word in English, Koreans say "sipal" for good things and bad things. So we thought that was a good title for the album. On "18," the songs are about two topics. Some of the tracks focus on the negative side of society, and the others are about seeking endless pleasure. The ambiguous meaning behind "18" fits well in this instance. And we also liked that "18" could be read by people all over the world, regardless of what their native language is.
"Sipalsegi " Music Video (Source: Steelface Records YouTube)
What challenges and experiences did you have while making "18" over the past seven months?
Sumin Jo: When we decided to begin making punk music with keyboards, bass, and drums that became kind of a new starting point for Patients. Because of our unusual set up, there weren't any other bands we could use as a reference point so we just mixed together the different sounds that we enjoyed. When Patients first formed, we just copied the other bands we liked. But being able to truly make original sounding music now, this version of Patients is so much better. We've been playing together for three years with our current lineup, and we spent the last seven months recording our history together up until this point. The result of that is "18."
"Bad Fingers" is a new track that on "18". What is the meaning of this song and how did the song come about?
Sumin Jo: After the quick growth of the Korean economy, there were many problems that remained unsolved. As a result, Korean society has some pain. More recently, some big, terrible incidents have happened and sadness has further spread. When reality tortures us and can't be fixed right now, I think only pleasure can make people forget things. That's why we wanted to make music that was upbeat and energetic. We hope these songs can stimulate people and make them feel at least temporary pleasure. We expressed this thinking in our music video for "Bad Fingers" by covering everyone's eyes.
"Bad Fingers" Music Video (Source: Steelface Records YouTube)
You also released music videos for "Sipalsegi" and "Bad Fingers". What are the different concepts between the two of them? Were you involved with discussing ideas for the videos with the music video production teams?
Sumin Jo: "Sipalsegi" was directed by Parpunk who used a rotoscoping technique to make the video. Parpunk usually mixes visual art with electronic music. And, despite his name, Patients was the first time he collaborated with a punk band. When making the music video, we only had to play live so it was easy for us. But it was hard for Parpunk because he had to draw 5099 pictures for the video!
"Bad Fingers" was directed by Baek Seunghwa. He usually creates independent movies. For that music video, we had to participate a lot more. We casted our friends in the video, and found the costumes and the accessories. In addition, we had to do some acting with our eyes covered so it was quite challenging.
We hope people watch and enjoy both of the music videos!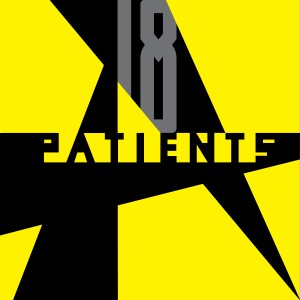 Album cover of "18" (Courtesy of the artist)
In September 2014, you went to Taiwan to perform at Beastie Rock Festival. How was your experience in Taiwan?
Sumin Jo: It was fun! It was our first time visiting Taiwan, and we played gigs in Taipei, Tainan, and Kaohsiung. It was great to experience the different atmosphere in each place. Beastie Rock Festival in Taipei is only a few years old and I like what they are trying to do. The festival's programmer is very enthusiastic and we had a great time together. And I also remember the kind friends we made in Tainan and Kaohsiung. We still talk together online. It was really hot while we were in Taiwan. Next time we got back, I'm taking lighter clothing!
You will be back to perform in London and Liverpool from 19 – 24 May together with Dead Buttons. How does it feel to be back in the UK for the tours?
Sumin Jo: After performing at Liverpool Sound City last year, we were really interested in going to the fest again. So when an invitation came to play at this year's festival, we accepted it without any hesitation. However, since we have some promotion plans in Korea for "18" we can't stay very long in the UK this time, which is why we're only playing three gigs on this tour. But we're really thrilled to be returning. Our 2014 UK tour was an awesome experience, and we're excited to playing in London and Liverpool again and getting to see some of the friends we made in those cities last year.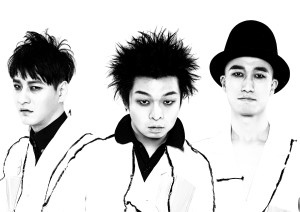 Courtesy of the artist
What was the most memorable experience you had during your first UK tour in April 2014?
Sumin Jo: Definitely playing at Astbury Castle in London! We played in London, Southampton, Bristol, and Liverpool last year. Astbury Castle was the last show of the tour and many friends that we met in the UK came to see us.
Astbury Castle was fun because punks live together there and they use their kitchen as a venue. There were so many people crowded into a small space. We experienced a kind of nirvana while playing there. That experience gave us power and made us want to keep doing more and more cool and exciting things as a band. I really want to visit there again.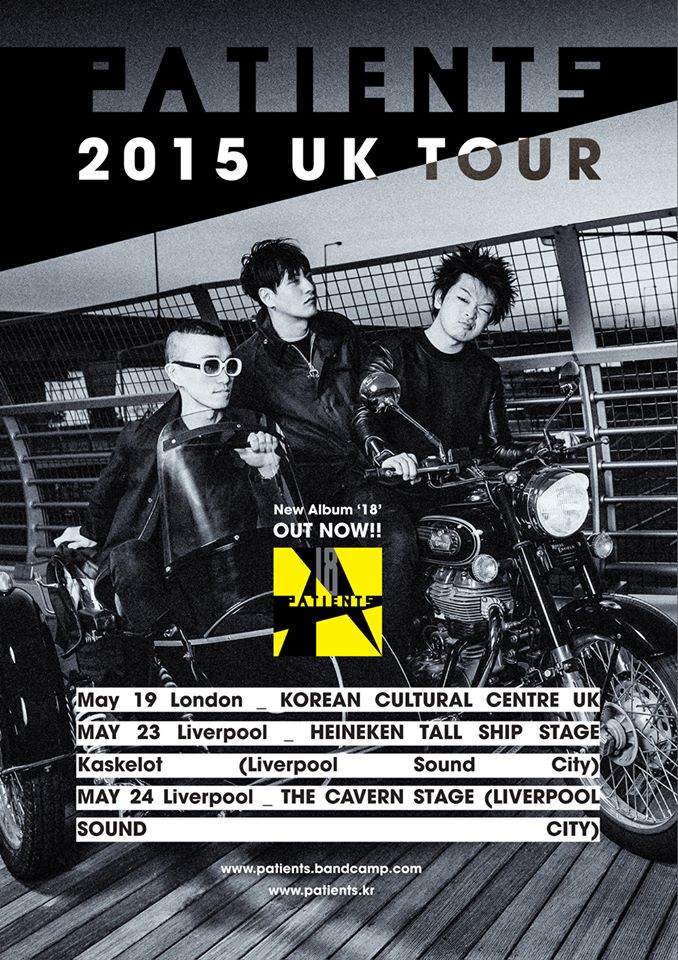 PATiENTS 2nd UK Tour (Courtesy of the artist)
Is there any message you would like to send to your UK fans?
Sumin Jo: We'll see you very soon! This is our first tour after releasing our new album, "18." We're really excited to share our new music with you. Please enjoy the songs and let's all hang out and have fun together at our shows!
Thank you to Sumin and the other members of the band for taking to time to participate in the interview before flying to the UK. They had touched down in the UK and they are excited to perform in London and Liverpool. Don't miss out their performances. It will be the night that you will never forget as you will go crazy watching their addictive tunes and amazing performance by PATiENTS. Here are the following details of their UK tour:
May 19 – London, England @Korea Cultural Centre UK

May 23 – Liverpool, England @ The Heineken Tall Ship Stage (Kaskelot) – Liverpool Sound City

May 24 – Liverpool, England @ The Cavern Stage – Liverpool Sound City
You can find more information about PATiENTS at Facebook and Twitter. Get their latest album via iTunes and Bandcamp.
Tags : Hybrid Punk,K-Indie,music,Patients,Punk Rock