Portraits of the Days of Youth (1991)
Posted on March 25, 2014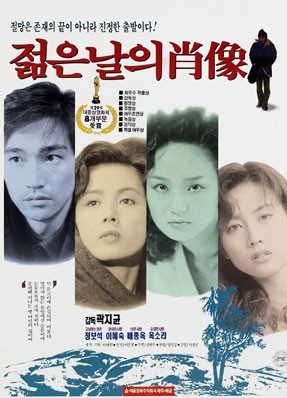 Director: Kwak Ji Kyoon
Casts: Jung Bo Suk, Lee Hye Sook, and Bae Jong Ok
Genre: Melodrama
Running Time: 134 minutes
Certi: 15
A young man, Young Hoon, found out that his first love, Jung Nim is having an affair with his teacher. Later, he fails to enter into the university and goes to a local college instead. During that time, he looks on his friends who have their own beliefs and ideologies, including politics, as the society rapidly change. Meanwhile, he falls in love with Hae Yeon who is from a wealthy family. Unfortunately, due to social class differences, they broke up. After seeing so much incidents, he abandons his studies, love, and friendship behind and wanders around the countryside. He hopes to find his first love along the way. In his journey, he met two people who become his travelling companions. This film focuses on importance of life that needs to be taken into consideration. 
Portraits of the Days of Youth is a trip down the memory lane and life lesson to learn. The audiences could recall how their younger days were when they are either in college or university. During that time, joyful friendship plays about through conversations and drinking while love is in the air, especially the chessy ones (pick-up lines and girls being shy and innocent). The storyline wouldn't be more dramatic without putting conflicts that make Young Joon feeling miserable. The student riots toward the political change is one of the major events that most audiences remember. Some memories are mesmerizing yet touching at the same time. 
In the second half of the film, Young Hoon starts to realize the meaning of life by meeting and talking with the people he met along the way. He listens to their stories about how they struggle due to rapid changes of society and political power. Also, in the country inn where he works, women have to work as prostitutes in order to earn for a living and survive in the harsh society. All these encounters changes his perceptions about life and made him realise that he cannot escape from reality. Listening to their stories is fine but the continuous journey across the countryside, starting from the last portions of the film, made me feel sleepy. Still, the mirror-door opens our mind of how the people go through the love, society, and political ideologies.
The storyline compliments well with the title as you watch and listen to Young Hoon's story about his youth days. Love and happiness is around and then obstacles hit him in the face that led him to escape. A wanderer who listens to other people's stories made him wonder whether he is doing the right thing to escape from harsh reality. A classical, but visually moral value, film to be understood.
Rating: 6/10
The film with English subtitles is available at the Korean Film Archive YouTube Channel through here.
Tags : Bae Jong Ok,Film,Jung Bo Suk,Kwak Ji Kyoon,Lee Hye Sook