Seoul, My New Recipe Competition
Posted on August 28, 2013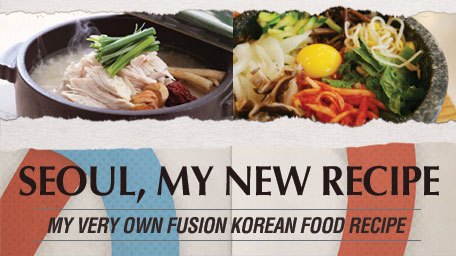 Source: Visit Seoul Website
Do love cook and eat Korean food? Do you want to go to South Korea to enjoy tasty Korean food? Here's your chance to participate in this competition. The competition is organized by the "Visit Seoul".
Source: Visit Seoul YouTube Channel
Here is what you need to do.
1. Create a video recipe of your unique fusion Korean dish. You can combine your traditional foods and local ingredients to make mouth-watering dish. Maximum two person per group.
2. Share your video of unique dish creation as a video response to the official Fusion Korean Food Audition promotional video. 
3. You can submit any video format that is supported by YouTube. You can take the video with smartphone. 
Winners will be selected by the number of views (30%), number of votes (10%), and the number of evaluation of an expert judging panel (60%).
The final five contestants will be selected to go on a delicious and mouth-watering tour in Seoul, South Korea. 
The competition is from 22 August to 25 September.
What are you waiting for? Show your cooking ability and creativity of fusion Korean dish.
For more details, visit the Seoul City Tourism Website and YouTube. You can also e-mail to [email protected]
Tags : Competition,Filmmaking,Food