The Tower (2013)
Posted on June 2, 2013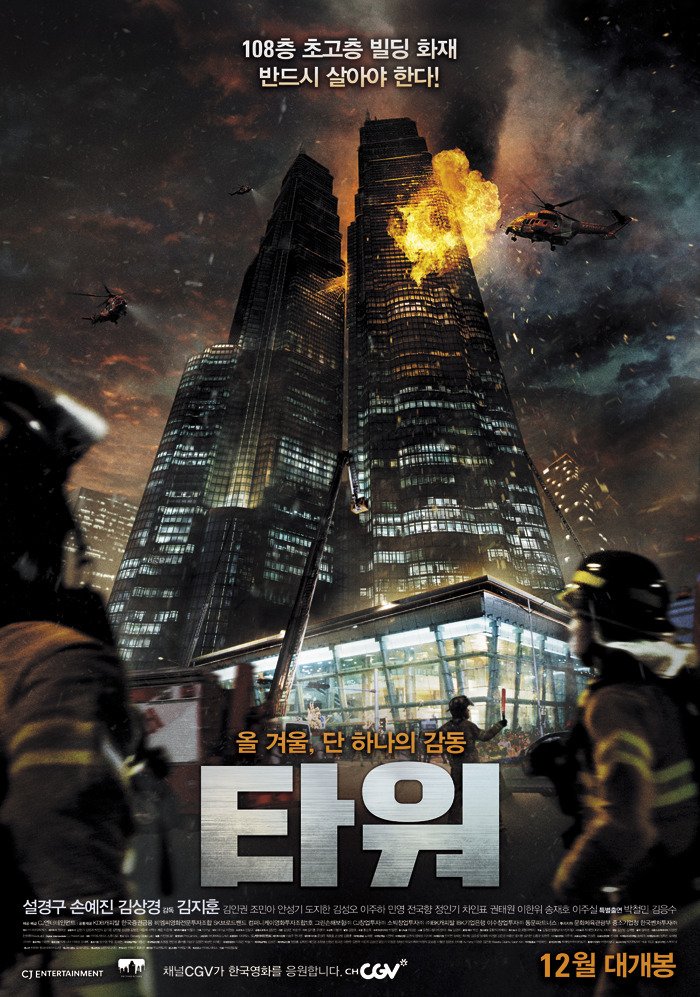 Director: Kim Ji Hun
Casts: Sol Kyung Gu, Son Ye Jin, Kim Sang Kyung, Kim In Kwon, Do Ji Han, Park Cheol Min, Song Jae Ho, Lee Ju Sil, Kim Sung Oh, Lee Han Wi, Cha In Pyo, Jung In Gi, Ahn Sung Ki, and Jo Min Ah
Genre: Drama and Disaster
Running Time: 121 minutes
Rating: 15 (South Korea)
The residents and staff member of Tower Sky twin tower celebrate Christmas Eve. Lee Dae Ho notices a faulty water sprinkler system when there is a small fire at the restaurant's kitchen. However, the building owner Jo (Cha In Pyo) disregard the problem. The Christmas party begins on a lovely evening. Hired helicopters circle around the building and spray man-made snow for the Christmas party. The residents are amazed by the snow. The residents are struggling through these horrific events while trying to escape from Tower Sky.
[youtube http://www.youtube.com/watch?v=BCQ1EemWIxo&w=640&h=390]
The film starts off with happy times on Christmas Eve. My mind and heart is all cheery with this special day especially when loved ones spend great quality time together. Suddenly, the fire starts to ablaze in the building because of two reasons: (1) unprofessional helicopter driver crashes into the building and (2) boss Jo didn't listen to Dae Ho. I started to shift to an emotional period when I hear and see the cries and angers from the residents. The most emotional period is between Dae Ho and Ha Na, the father and daughter moment when they tried to get back together and escape from the horrific event. I couldn't hold my tears while watching the film.
When it comes to status/role, I was so angry that the rich and famous has to be saved first before others. I'm on Captain Kang's side for being frustrated that he has to save the VIP family including the dog. There is definitely a clash between the rich and the civilians.
As I was watching this film, I hold on tight and hoping that the main characters will be saved and sound. Even though there were some clichés that come in their way, it keeps me going and being attached to the storyline. Even though visually it looks like from the Hollywood film '911', the graphics and visual effects on how these implement shocking disaster do make me worry what will happened to the residents and witnesses.
I spotted many casts whom had acted before in previous films that I watched. Sol Kyung Gu portrays a fireman who has a strong heart and will to save peoples' live.  He has the capability in maintaining the set of emotions based on various scenarios within the film. On the other hand, Kim Sang Kyung act as Dae Go who commits his upmost best to be together with Ha Na and his crush. Even though his facial expression has worries for both of his loved ones but he is supported by Captain Kang. That is a great bromance of helping each other. Son Ye Jin has done well as a mature actress in her acting for this film. Also, although she's a sweet woman but she also has a strong heart while portraying her film's character. Every cast has a role that has their own story and different personalities. Yet, they come together as one to escape from this horrific disaster.
Even though I was told, that 'The Tower' was not that good because, visually, it is quite similar to '911'. However, the storyline and characters touched my heart that makes me cry so much that I have to wipe my tears away.
Rating: 8/10