VIDAN: Interactive Storytelling About The Korean Treasures
Posted on January 20, 2014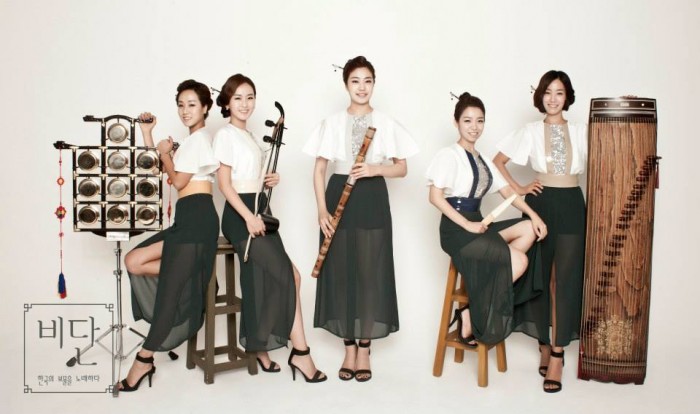 Vidan (Source: Vidan Facebook)
We listen and read the Korean folk tales and history through books and from the people who talked about it. Instead, VIDAN takes another approach in telling the Korean treasures through fusion Korean traditional music and interesting videos.
Waltz of Moonlight: Palace of Joseon Dynasty (Source: Vidan YouTube)
Vidan is 비단 in Hanguel. The group consists about five members. Each of them plays their own Korean traditional instruments. In certain songs, one of the members will sing in pansoori. Their main goal is to convey the stories of Korean treasures in the contemporary society including the younger generation. This is done by fusing Korean traditional music and upbeat modern instruments like drums and guitar. The videos are considered as Korean heritage documentary concert genre because before they played the songs, they will be a brief interactive information about the Korean treasures. These videos are shown not only in Korean but also in English, Korean, and Russian. So, there is no problem with the languages while listening about the stories on the Korean treasures.
Whispers of Love: Chun-Hyang's Story (Source: Vidan YouTube)
So far, the stories, together with the songs, which are shown at the moment are as followed:
1) Waltz of Moonlight: Palace of Joseon Dynasty
2) Whispers of Love: Chun-Hyang's Story
3) Arirang
4) Standing On The Bow: General Yi Sun-Shin
5) Opening New Age: Hunminjeongum
Opening New Age: Hunminjeongum (Source: Vidan YouTube)
While these fusion Korean traditional songs are being played, the images of Korean treasures are displayed either in standard or animation versions. Rather than just telling the stories, the music are added to make the stories more interesting. Listening to these upbeat traditional music makes you not only understand but also recall that the Korean treasures still exist in the modern contemporary society. A great way in increasing its cultural awareness to not only to the Koreans but also to the world. Vidan continues to sharing the Korean treasures through music that speaks more than a thousand words as music is the world language that everyone understand.
You can purchase the album via iTunes, Melon, Naver, Olleh Music, Genie, and Soribada. Also, don't forget to follow them through their official website, Facebook, and YouTube.
Tags : music,Pansori,Traditional Music