Zandari Festa 2016 Day 2
Posted on November 12, 2016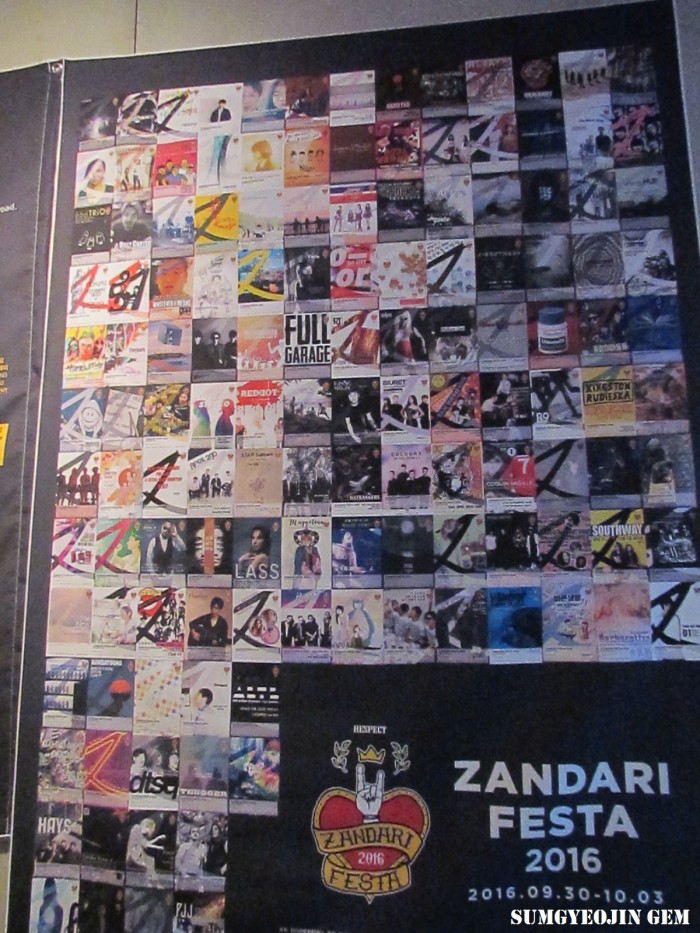 I heard the heavy rain in the early morning. I thought it'll be gone after a few hours so I slept more. However, the rain poured continuously. So, I had to use one of the guesthouse's umbrellas and walked around in Hongdae. The rain ain't going to stop me from checking out more bands at Zandari Festa 2016. On the final hour of Day 2, I was making tough decisions on which band that I really want to watch live. A lot of good bands were performing at the same time. I had a very spicy tteokbooki at a nearby snack store before I start my gig hopping. Yes, this means more walking to different gig venues to discover more music.
After having some thoughts, here are the bands that I checked out on Day 2.
Dead Buttons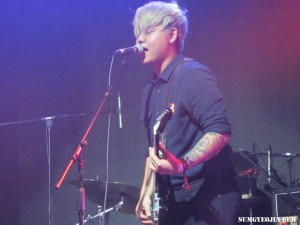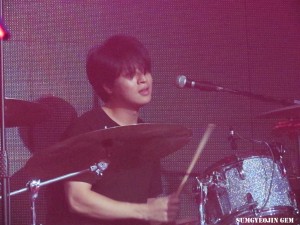 I came earlier and hang a bit at the MUV Hall while Dead Buttons were doing some sound check. However, while I was checking the schedule I noticed that it was presented 30 minutes earlier before the show. The actual schedule supposed to 5pm instead of 4.30pm that made the audiences confused with the timing.
So, I wait for a while till Dead Buttons got on stage and perform. Daniel and Ji Hyun continue perform their songs in groundbreaking compositions between the verses. Their selection of tracks is from EPs Whoever You Are and Some Kind of Youth. Their smooth vocals, Daniel's immense drumming skill and Ji Hyun's versatile guitar chords are balanced in every track and just went straight from one track to another. At times, they interact with the audiences in between tracks. They played some of the audiences' favourite tracks like 'I Want It', 'Witch' and 'Let Me Down'. '16 – 22' kept the audiences' mood going with melodic lyrics and tunes. 'Let Me Down', 'Hangover' and 'Desire' have the heavier edge: Ji Hyun's flawless vocals sing in detailed lyrics and Daniel's strong drum beats. Dead Buttons certainly did not disappoint us.
Laybricks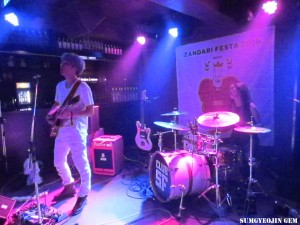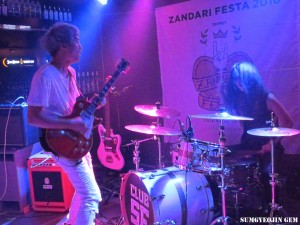 By the time I reached Club Steel Face, I managed to listen to two tracks from Laybricks that clearly showed their distinctive music: 'From Me to the World' and 'Let's Dance'. 'From Me to the World' is a heartfelt song that is well-performed with Kwang Min's mellow vocals & simple guitar chords and Hye Jin's strong drum beats that moved me. I was happy to catch perform live on one of my favourite songs 'Let's Dance'. Throughout the performance, there is an amazing chemistry between Kwang Min and Hye Jin. They keep up with their own pace and looking at each other from time to time. Kwang Min executes the upbeat notes perfectly while Hye Jin's flexible and hardcore drumming skills just blew my mind away. The overall song keeps me a total energetic mood. Kwang Min engaged a lot with the audiences and, at times, jumped around. 'Let's Dance' made the whole audiences dance and have an awesome time. I had a good time while listening and dancing along with it. Laybricks bring in lots of positive inspiration and energy through their songs and live performances.
AKUA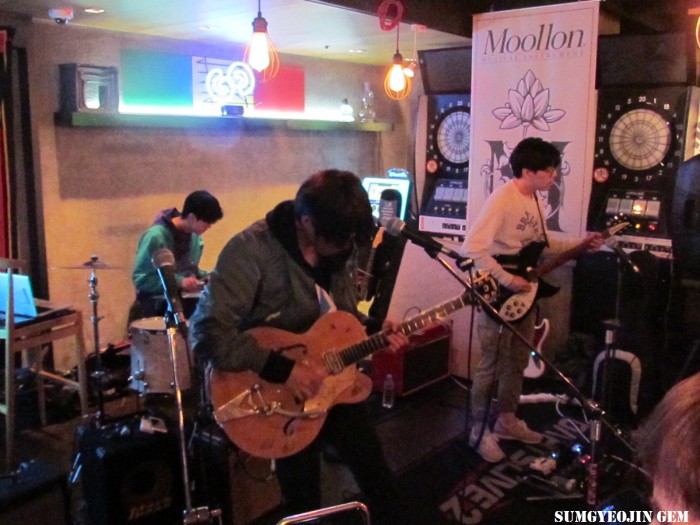 AKUA was supposed to perform at the outdoor Club Steel Face Rooftop. Due to the heavy rain, they were moved to perform at the MUV Hall.
It was refreshing to listen to their songs especially when they performed during the heavy rain. A lot of passer-bys checked out what was going on. The tunes take me back to the 90s. The tunes are dreamy and mesmerizing. 'Bird Song' and 'She Got the Control' are some of the tracks to listen to. Probably the great moment to listen to these songs when coming back from work, put on the music and just relax. Kang Won played the bass with so much flow in between verses. Chan Kyung's drum beats are delightful. Je Kyun's vocals has plenty of monotones but dreamy followed by his retro guitar chords. Overall, the performance is alright but probably there are some parts and tracks which are a little bit dry.
Sons of Tiger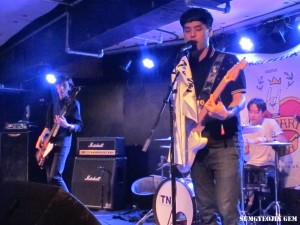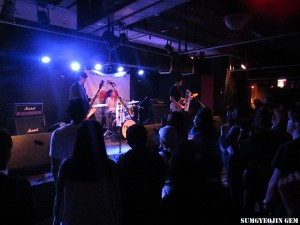 As I walked into the GOGOS2, I could hear the loud beats of Sons of Tiger, a trio with a combination of garage rock, blue and rock n roll, from downstairs. Following to the sounds led me to the crowded space with audiences who are having a good time while Sons of Tiger are rocking out despite being so sweaty. Seong Min sang melodic and the tones go straightforward to my mind that I couldn't escape from it. Also, the hardcore guitar chords are played well. Hak Young may look calm on the outside but he sures how to play a mean bass in layering up the overall music. Seong Hyun went crazy with the drums. He has so much ongoing energy put into playing hardcore drum beats. I couldn't help but drawn into his mad skills. My favourite songs so far are '마음의 바닥 (The bottom of heart)' , '데려가줄게' and '탐'. Sons of Tiger is the current generation of K-indie bands that you should look out for.
Love X Stereo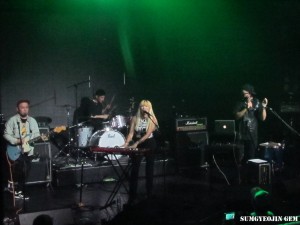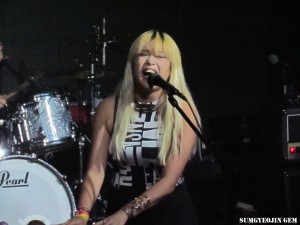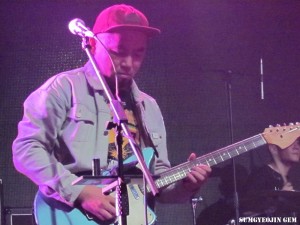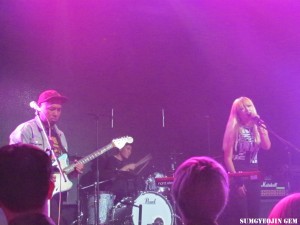 Love X Stereo's music has become better with more dynamic synth sounds mixed with rock that I am impressed with how they passionately produced them. At the MUV Hall, they played a couple of tracks including 'Beauties Die Young', 'Fly Over', and 'Dead Beat Generation'. Annie's angelic and delicate voice flows throughout the hardcore electro-rock tunes. Also, she hit the high pitch notes on point without any worries. With the help of the others members, who handle the percussion and synth music, they are the perfect team in balancing the strong drum beats, dynamic synth beats and steady vocals. They ensure the set synth in place before playing the next track. While earlier tracks like 'Beauties Die Young' and 'Dead Beat Generation' are more towards electro, their latest track 'Rage', focusing on the hardcore rock tunes together with keyboard, is very astonishing. The mellow verses and strong impactful chorus are well-balanced throughout the whole track. The overall live performance is simply amazing. Dynamic music transcends through my mind.
LudiSTELO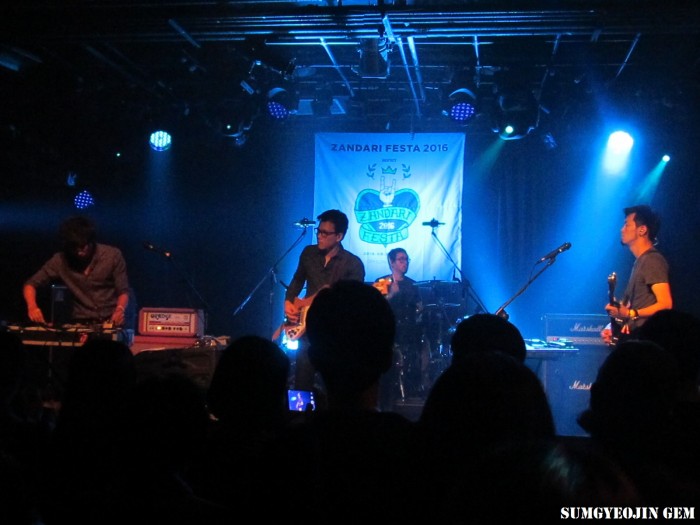 I was dancing the night away with LudiSTELO's music. The whole Rolling Hall became a party as the audiences dance and cheered LudiSTELO. The band set the emotions right on track. Sang Jin was more hyperactive through the whole performance. He sang his heart out while synthesizing the right tunes in balancing with the rest of the members' instruments' sounds. Some synth sounds were slow while others were fast. Sang Jin's mesmerizing vocals left me in awe. Ash plays nicely with his guitar that has the combination of raw sounds along with executing the synth sounds to the guitar tunes. The repetitive and lively synths sounds in between, along with hardcore guitar, immediately make my emotions drawn into different tunes.
Vassline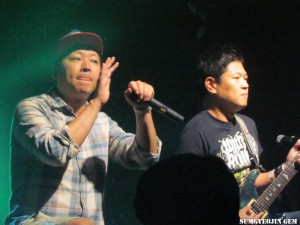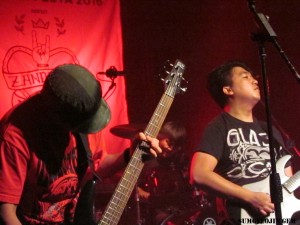 I stood at one corner in the Rolling Hall while taking some pictures because the moshpit was created so that some audiences are ready to go crazy with Vassline. By the time the screen went up, hardcore fans in the audiences started to cheer for them when they heard the roaring raw sounds from the guitars. Woo Seok doesn't strain his voice too much as he sang out in anger and upbeat enthusiasm. He was not afraid to communicate with the audiences as he asked them to clap along to the beats and chant a few verses with him. Chainsaw execute the notes on this guitar flawlessly. The growling and shouting sounds give me so much shivers to my spine. The layers of each instrument sounds is not to messy and it given each member to showcase their instrumental skills. Their live performance did make the some hardcore fans go headbanging followed by creating a moshpit for them.
Streetguns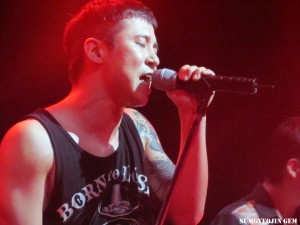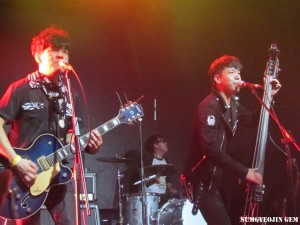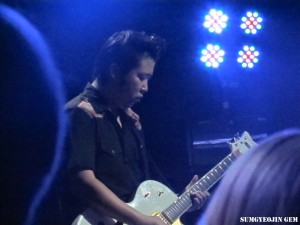 The night with Streetguns is truly an unforgettable one. I danced and jived happily with the audiences while Streetguns are having fun on stage. The rockabilly tunes just injected to my body and made me danced non-stop. Cheol Su sang amazingly with his smooth and clear vocals. In between the tracks, he interacted with the audiences and asked people to have with their music. Tiger's and Roy's backup vocals help to wrap up the whole voice in putting me on a groovy dance mode. Tiger and Roy were having a good time while playing their guitar and upright bass. Kyu Kyu's edgy rockabilly tunes are spot on. Every instrument and vocal from each member completes the whole package of rockabilly sounds. It is the only Korean rockabilly band that I would dance the night away and I would love to see them live again next time.
SKASUCKS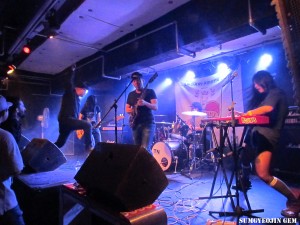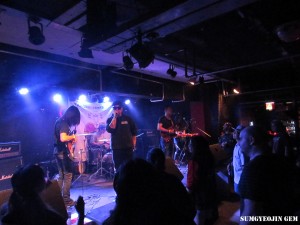 I was sitting by the middle table in GOGOS2. The staffs asked me to move as they had to move the middle table away. I was wondering why they have to do that. When SKASUCKS started to perform, that's when I realized the audience started to have the party on the floor. Jin 'SUCKS' has his own unique stage presence. Not only just singing but also playing around with his microphone, pacing around on stage, swinging his arms and interacting with the audiences including sharing the microphone with them to sing along with him. His melodic and shouting vocals in different verses are executed nicely. Different tracks set the audiences in different kind of dancing moods, especially Kyeong Chan's guitar and Ji Won's keyboard. Some of them jumping, dancing and hitting each other while others are dancing in one spot and moving their arms around. SKASUCKS know how to make the audiences have a good time while giving them time to relax based on their live performance tracks.
National Pigeon Unity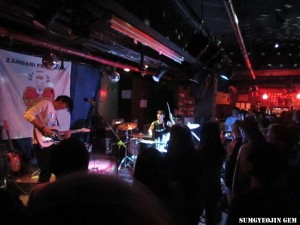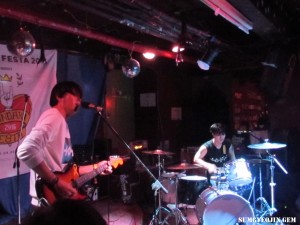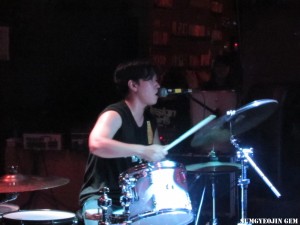 When I saw National Pigeon Unity perform live for the opening party, I was like 'Wow, I have to see them again'. They performed Club TA which is right next to GOGOS2. It was full house in Club TA and the audiences have begun to go wild after getting so much energy from the duo. Each of their individual skill and their chemistry caught my attention. Also, they transcend to different genres in their tracks such as inputting bits of old school hip hop tunes. Young Mok's showcased various drum beats that he could possibly do within seconds. His continuous energy didn't stop him from hitting his drums tremendously. Kidohu constantly moved around while he jammed with his guitar, based on the guitar tunes arrangement amazingly. There was even the time when he walked back and leaned towards where the Zandari Festa 2016 banner is before gets back on his feet. Different genres based on tracks like 'Hook, '1,2,3,4' and 'Kathera' thoroughly represent National Pigeon Unity's energy and willingness to experiment producing these music as a duo.
Asian Chairshot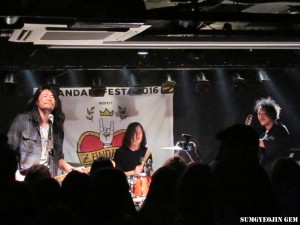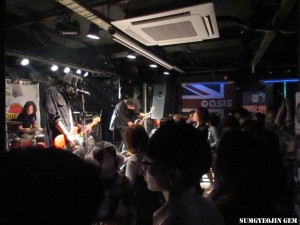 Final act for Day 2 Zandari Festa 2016 is Asian Chairshot at Club FF. Young Won sang his heart out emotionally in every track including in high pitch notes. Nam's specialty for his roaring guitaring skills left the audiences, like myself, went wild. Whenever he went upfront on stage and holding up his guitar, the audiences are amazed by his explosive sonic speed music arrangement. New drummer Young Jin played stronger drum beats that hit my heart, beat after beat. Despite the drummer changes, their music continues to maintain its essence of hardcore rock with traditional 'pansoori-like' vocals, sang by Young Won. Tracks like 'Hey Ya' and '반지하 제왕' presents their essence of unique music style. It's great to hear their live performance and I am looking forward to their upcoming plans together. The night of Day 2 ended smoothly. The rain finally stopped.
Day 2 started to become a dancing party. Some audiences are jiving while others create their own moshpits, headbanging and jump around. Some even sang along with the music. There was so much madness energy from their performances that was spread through the whole crowded audiences. It is like a huge gust of wind hit my face mentally. Despite the continuous rain earlier, the organizers did well in having MUV hall (ground floor) as a backup venue for bands who were supposed to perform at the outdoor Club Steel Face rooftop.
View my next article, Zandari Festa 2016 Day 3 as the night ends with the plenty of madness.
Tags : AKUA,Asian Chairshot,Dead Buttons,Laybricks,Love X Stereo,LudiSTELO,music,National Pigeon Unity,Skasucks,Sons of Tiger,Streetguns,Vassline,Zandari Festa 2016
Comments are closed.