Jubo London: Crunch and Melt in Every Bite
Posted on September 16, 2013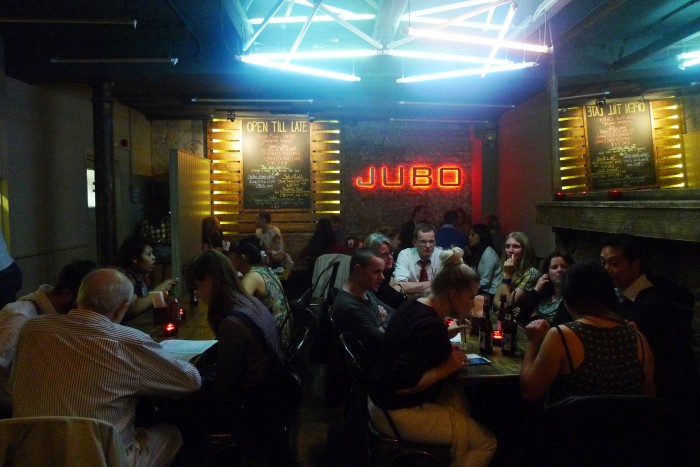 Jubo London restaurant at Bedroom Bar, Shoreditch
Within a few months, Jubo London has become popular among the foodies and have some Korean fried chicken. Jubo London was featured in TimeOut London and Channel 4's Sunday Brunch who recommended that this is the best fast food joint to have Korean Fried Chicken. 
So, I decided to drop to find out what is many people said that the Korean fried chicken is finger licking good.
Jubo London is specialized in 'anju'. 'Anju' which means the food that you eat together with alcohol. Jubo London is located at the Bedroom Bar, Rivington Street, Shoreditch which is one of the places that people hang out for some drinks and live music. Jubo London is opened in the evenings from Tuesday to Sunday. In the evenings, there will be a huge line of people as they wait to be seated. Of course, with so many people, means there must be many reasons why they come to this restaurant.
Once we got our table, you have a choice of food to choose from the Jubo London menu. There are many to choose from: fried chicken strips and wings, steamed buns with a choice of filling, 'bulgogi' subs, burgers, and side dishes. After looking through the menu, we have decided what to order.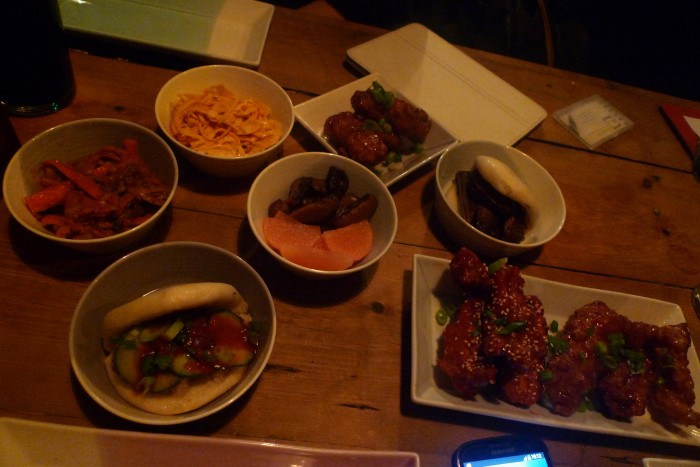 Our meal of the day
We have chosen the two steamed buns with two different fillings: (1) slow cooked pork belly with pickled cucumber, hoisin and sriracha sauce and (2) flat portebello and shitake mushrooms with hoisin sauce and spring onions.
From left to fight: Slow-cooked Pork Belly | Flat Portebello and Shitake Mushrooms
The steamed bun is warm and soft. The texture of the slow-cooked pork belly melts in the mouth perfect. With the hoisin and sriracha sauce, it gives the sweet and spicy taste to our tastebuds. After that, the cucumbers give us the slight of cool and freshness to the taste. The flat portebello and shitake mushrooms is our favourite among the steamed buns. The mushrooms are nice and sweet. It gives us the after taste and the taste is still on our palette that we feel that we want more of these. Overall, the steamed bun with the fillings has a great balance of taste. One steamed bun is not enough for one person and a group. So, order more and try various types of steamed bun fillings.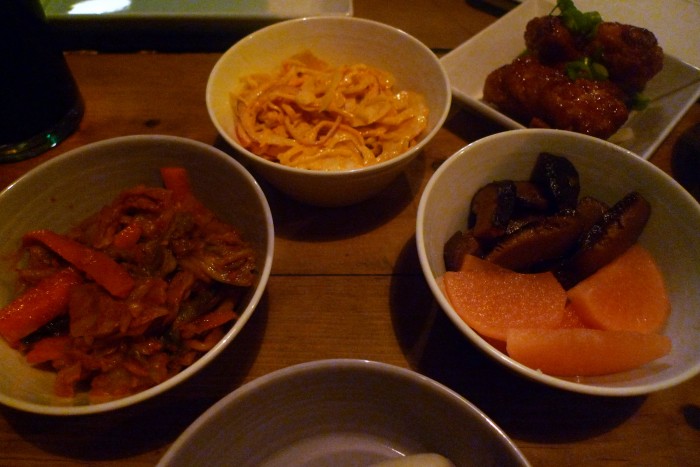 From left to right: Kimchi | Kimchi Slaw | A Selection of Pickles
In our meal, we had a wide range of side dishes: (1) kimchi, (2) kimchi slaw, and (3) a selection of pickles.
The kimchi is mild hot. The kimchi slaw is a little bit overpowering with the onions but it is good take on with the mix of kimchi and vegetables. The selection of pickles is my favourite. The thickness of pickled radish is absolutely perfect that I could taste the freshness and a little bit of spice. The mushrooms are not too sweet and these are definitely a great after taste. All the side dishes compliments well with not only the steamed buns but also our main dish: the Korean fried chicken.
Chicken Strips and Wings
Finally, the main starter of our meal, the Korean Fried Chicken. You can choose either wings or strips. You can choose whether you want soy and garlic or hot and sweet to the chicken. We ordered six chicken strips and two chicken wings with two different flavours. Note: The chicken wings are the best part.
Once I bite the chicken, I could hear and feel the crunchiness that these were fried twice. The soy and garlic flavour is mild and absolutely perfect for those who can't really eat spicy. If you really want spicy, I recommend the hot and sweet sauce. Because as I eat the chicken with the hot and sweet sauce, these definitely have the spicy kick that makes you feel 'WOW'. These chicken go well with the beer. The taste and texture of fried chicken just melts in your mouth which makes you feel like your in a joyful heaven. Now, the best part. When I tear the chicken strips and wings apart slowly, I can hear the crunch that makes me want to dig in to those chickens.
Come on down to Jubo London
This is definitely a great 'anju' place to come and hangout with your friends. You will enjoy the chilling atmosphere and mouthwatering Korean fried chicken. It is definitely worth the money to have good quality and wide range of food to share among a group of people. There is no reservation. So, it is best to come around 6 – 7 pm before the place gets busier. If you want to book a group more than people, then, you can make your booking and they get the table ready for you.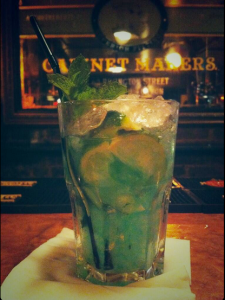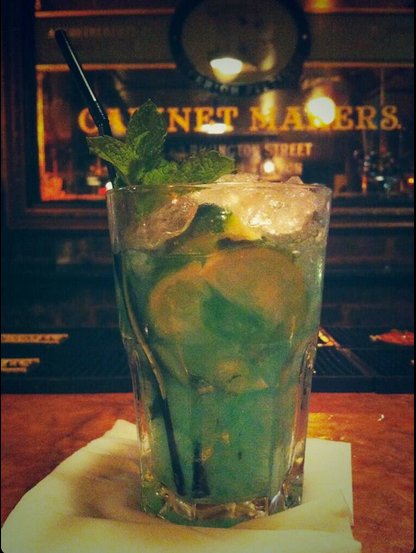 Soju Mojito (Source: Jubo London Facebook)
You can order yourself a set of two wings and three strips with a bottle of Hite that costs £10. If you want to share with a big group, order the chicken dinner platter that has eight wings, eight strips, and three sides for £35. In collaboration with the Bedroom Bar, Jubo London has come up with the monthly fusion cocktails that you could try. For this month, Soju Mojito is on the menu. The upcoming cocktails will be in the menu on a monthly basis.
I would like to say about Jubo London in one sentence: Five senses of sensation with 'the' Korean Fried Chicken.
For enquiries and booking, you can visit their website. For the latest updates, check out the Facebook and Twitter.
Tags : Jubo London,Korean Fried Chicken