Think in Music: Understanding Korean Indie Music
Posted on May 9, 2014

The Korean Cultural Centre UK organized the 3rd Artist Talk Party. In relation to the Korean-indie artists coming to have their tours in the UK, the theme to be discussed is "Think in Music". The event started off with the panel talk followed by Peterpan Complex and Hugh Keice live performances.
The panel talk provided audiences some brief insights about the current trends of the Korean-indie music industries, UK and global music market, struggles for international musicians in the UK, the role of music promoters, and live music and music festivals.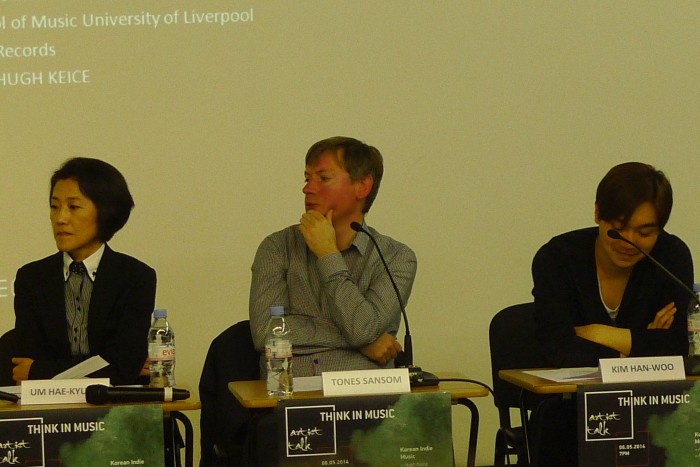 Hae-Kyung Um – Tones Sansom – Hugh Keice
Hae-Kyung Um, Director of Postgraduate Studies from the University of Liverpool, gave a brief introduction of how the Korean-indie music scene and industries has been developed since the 1990s; starting from Hongdae scene till now. The rise of Korean-indie artists put in their efforts in gaining fanbase and promoting music in both domestic and global music markets. Also, they embrace technology, which is social media, to share and promote their music across the world. Most importantly, they involved themselves in performing not only in Hongdae but also at live music festivals (such as SXSW, Zandari Festa, and Liverpool Sound City).
Johnny Hopkins, PR Director at Traid Publicity, explained about the UK and global music market. He mostly talked about the economic aspects that are based on music exports, music sales, and music tourism. He also addressed the shifts of music purchasing platforms from traditional to digital but there is still a balance between these two as customers are still purchasing physical discs at music stores. Thus, artists are finding ways to be heard through selective platforms while highly considering about the money that they have to spend and earned based on sales from both digital downloads and stores.
Singer-songwriter, Hugh Keice, gave motivational thoughts about the importance of the 'relationship' between artists and fans. He did give a simple story to relate to the struggles of artists but he pointed out that some artists forget the beauty of artists. With the concept of 'relationship', he advised to the audiences to ask themselves 'what can you offer to the fans?' and share the story and music, which is part of them, that makes audiences curious. Language is no barrier for artists to make an effort to connect with the audiences. Furthermore, social network and music platforms are the way to not only to explore and promote music but to connect with fans. So, 'relationship' is the key in being a true artist who share his/her music and story to the audiences while overcoming the boundaries.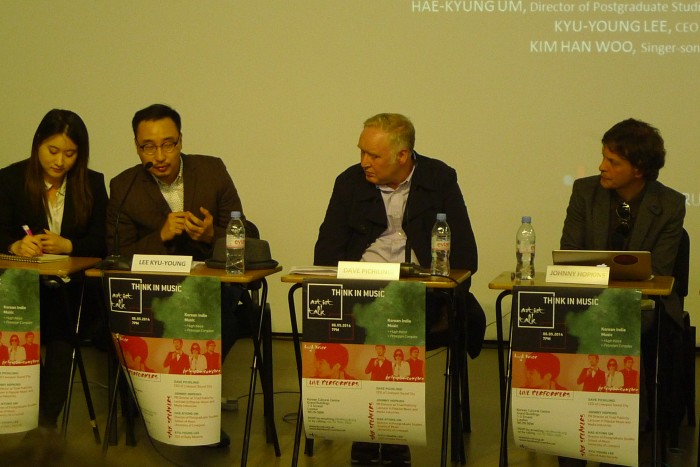 Kyu-Young Lee (CEO of Ruby Records) – Dave Pichilingi – Johnny Hopkins
Tones Samson, Head of Press from One Little Indian Records, addressed their roles in distributing and promoting music. These activities including marketing are part of building process in relaying the same messages and stories to the audiences. At the same time, music promoters need to consider the marketing budget that they have to invest in their strategies. Teamwork and communication are also important between music promoters and artists. Currently, word-of-mouth marketing is one of the main marketing strategy in promoting the music while overcoming the resistance of cultural wave clash. Therefore, for Korean-indie music, word-of-mouth and social media are one of the ways to increase its awareness within the global music market.
Dave Pichilingi, CEO of Liverpool Sound City, talked about the importance of having live music festivals. Even though about 9500 bands from different countries applied for the Liverpool Sound City Music Festival, only 360 bands and 23 countries are selected to perform for this year's music festival. It is impossible to fit everyone in one music festival within three days. It is about finding great music, art, and culture. The problems that arise are young audiences' purchasing records, marketing budget, and fees income which affect the bands from performing music festivals like these. However, he said that these problems can be formed into opportunities for artists in putting a lot of effort in promoting their music. With live performances and music festivals, it impacts the connection with global niche audiences and fan bases.
One of the audiences asked what is Korean-indie and independent from what. It is difficult to give a clear cut between mainstream and indie music. However, Hugh Keice considered himself as a Korean-indie artist because of "creative freedom"; freedom to create their own music and develop their capabilities as musicians. The true beauty of music is created by musicians who want to share their passion for music to the audiences. The "creative freedom" gives a clear distinct difference between mainstream and indie music in Korean music scene and industries. 
Peterpan Complex: Lee Chi Won – Jeon Ji Han – Kim Kyung In
After the panel talk, the night ended with splendid acoustic performances by Peterpan Complex and Hugh Keice. Their performances were commemorated to the Sewol ferry tragedy which happened a few weeks ago.
Peterpan Complex's live acoustic performances, including "Morning Call" and "Can't Take My Eyes Off You", are totally different from the electronic rock tunes which I previously watched their live performances at the AAA, South Kensington, London. The instrumental beats were uplifting and calm while tapping my feet away and in transition with their music. Jeon Ji Han was able to hit the high notes followed by artistically showed his usual dance moves. For the last song, Jeon Ji Han expressed his emotions while singing which made me have tears in my eyes while having thoughts about the Sewol ferry tragedy.  
Hugh Keice
Hugh Keice performed three songs: "J", "Decameron", and "Dancing in the Rain". This is the first time for me to hear him sing "Decameron" live in Korean. The song is clean and crisp while it kept me groove along with the song. He dedicated his last song "Dancing in the Rain" to the Sewol ferry tragedy and victims. It moved me to tears. Overall, from start to finish, he put emotions into every single song, both lyrics and tunes, that tells in forms of stories which touches the audiences heart. His songs, whether it's upbeat or calm, present the true beauty in creating music that connects with audiences and fans.
The 3rd Artist Talk Party provided audiences some insights about the Korean indie music and music industries through the panel talk and live performances including dedication to the Sewol ferry tragedy. It shows that being in the music scene and business is tough. As Dave Pichilingi said, "Music is spiritual but not the music business. That's reality." Still, hard times can turn into opportunities if you take in the effort to improve yourself as a musician and connect with the audiences.
For the live acoustic performances, I wish that Peterpan Complex and Hugh Keice could perform more of their songs. Still, audiences will start to have interest in Korean indie music and finding more about it. It's a start for knowing about the Korean indie music which its awareness is slowly increasing not only in the UK but also across the world.
You can find more details about Peterpan Complex and Hugh Keice through their previous interviews. Links related to the artists are provided in the interviews.
Tags : Hugh Keice,K-Indie,music,Peterpan Complex